Construction of regional disposal facilities and centres for handling waste demand greater needs for rationalizing transport. Reloading centres will be built at distant locations, where waste will be collected, compressed and transported to disposal facilities or centres for handling waste. The waste will be prepared for transport with help of these stations. A reloading station operates automatically and the process is computerized: abroll containers, which stand on special wheel cars, move on the rails and approach to automatic compactor which gets filled with waste. With the help of hydraulic cylinders the compactor attaches to itself the container. After that, the piston fills it with the force of 500 kN and after it is full, opens its back opening and unplugs it. Then, it pushes it onwards the rails, brings in another container and the process is repeated all over again. The full abroll containers on wheel cars wait for the disposal vehicle to take it to a disposal facility.
| | | | | |
| --- | --- | --- | --- | --- |
| | | | | |


Transposing station

The purpose of a transposing station is to empty delivered waste and compress it effectively. Disposed waste travels through a shaft into stationary compactor which compresses waste. Compressed waste is collected in closed abroll containers.

1. The system of rails
The wheel cars which contain abroll containers move on the pair of rails. There is a bumper at the end of the rails in order to prevent the collision of wheel cars and containers in case of a failure in electric system of monitoring. Possible uncontrolled movement of wheel cars is otherwise stopped by an electronic sensor.

2. The system of wheel cars
Wheel cars are connected to each other with a welded connection and therefore form a wheel cars system. There are two installed electric motors, one on the first and one on the last wheel car, which enable the movement of the entire system.

3. Containers
Abroll containers come in sizes 25m3 to 30m3. The outer measures are adapted to the vehicles used by costumers. The containers are made of standard profiles and in compliance with DIN norms.

4. SHAFT
Shaft is approximately 17m3 large and accepts transported waste from the communal vehicle and directs it into the stationary compactor.

5. Stationary compactor
Special stationary compactor presses waste with enormous force through the opening in an abroll container. At the front side of the compactor, there is an installed hydraulic cylinder which shuts the slide door of container at a given sign.

6. Control
Control system is located at the right side of the shaft and it automatically monitors the entire system of the transposing station; it fills the containers, closes the hydraulic cylinder, attaches containers to the compactor, automatically opens the welded elements, moves wheel cars along the rails, takes delivery of empty containers, attaches them to compactor and starts over the filling process.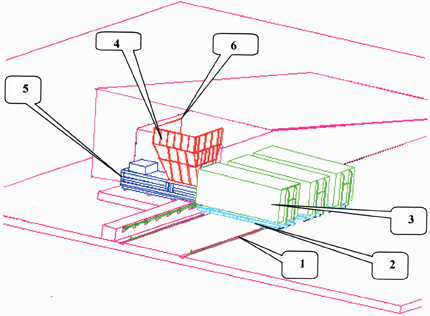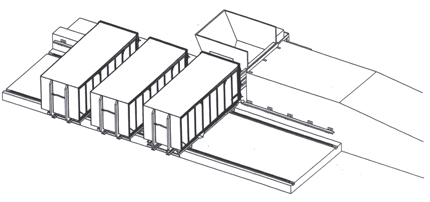 Photo gallery:
Reloading stations